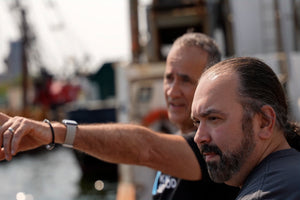 (more than a couple of seafood-loving food nerds)
We are on a mission to transform seafood supply chains and make sustainable, accessible and transparent seafood products the obvious option for consumers.  
Dan McQuade and Paul Neves have lived and worked in the seafood industry for decades before founding KnowSeafood.
As a teenager, Dan's father bought him 150 lobster pots and had him hauling those every day for quite a few summers. Skipping school to harvest Cape Cod Bay Scallops on the season's opening day is also a great memory. Loving and respecting nature, especially the ocean, is in his blood.
Paul, who as a child was playing with lobsters instead of Legos in the wheelhouse of his grandfather's fishing trawler, has seen how the ocean has been an essential part of the lifestyle of generations of his own family.
Seeing the disconnect between all the benefits high-quality seafood offers and the general mistrust consumers felt towards buying, cooking, and eating it, the pair created a better way to buy seafood.
Drawing on their passion, deep experience, and connections in the seafood industry, Dan and Paul founded KnowSeafood to use transparency and traceability to bring trusted quality seafood to a broader range of people.
See the Source
And while we can't promise you'll know each flounder's name, we promise happy taste buds—and zero fishy origins. So we'll tell you exactly where your catch came from. You can thank our blockchain technology for that (told you we were serious about seafood!)
In Cod We Trust!
Plenty of fish are in the sea, but we ensure you get only the best delivered to your door. Salmon. Scallops. Lobster. You name it; we'll get it for you. With just a few clicks, we'll send you a box of all your tried-and-true, gilled, and shelled faves.
Happiness Guarantee!
We do promise happy taste buds–and zero fishy origins. Just reel good, responsibly sourced seafood to liven up weeknight dinners, delight your palate & float the whole family's boat. Why do we go to such great lengths for seafood? Because, to KnowSeafood is to love seafood. 
Quality, Above All.
That's why we think you'll love being a part of the KnowSeafood family. Build your own box, or let us curate a delicious selection. Either way, you'll get only the best from-the-sea goodness delivered to your door. Guaranteed.
We only offer wild-caught seafood from managed fisheries and aquafarm-to-table seafood grown responsibly. Absolutely no use of antibiotics is allowed or feeds that impact the environment of our seafood.
Eat Seafood, Just for the Health of it.
Seafood is the healthiest protein we can put on the center of our dinner plate. We time and catch our seafood when it tastes best – only after it finishes a season of the most nutrient-dense food. Whether it is the Omega 3's, the high protein, low fat, or even those natural minerals our bodies and minds crave for a long-term health solution, seafood should be a significant part of our diets.
Better for the Planet & Your Palate
We understand that sustainability not only includes the survival of the species from overfishing but also the impact on the environment of the species, the community that harvests, and the effect of global climate change on water temperatures. KnowSeafood offers only sustainably caught and aqua-farmed products from trusted harvesters & farmers. Therefore, we strive to use environmentally friendly packaging when shipping and work with our harvesters to reduce the use and impact of plastics on our environment.